Information Note
As per the commitments given to the people of Sri Lanka, to strengthen good governance; promote, protect and uphold human rights; foster reconciliation; and strengthen the rule of law and democracy; in the follow-up to the Presidential Election of 8 January 2015, the Government, following the Presidential Election and the Parliamentary Election of August 2015" proposed the setting up of several mechanisms, namely, -an Office of Missing Persons -a Truth, Justice, Reconciliation and Non-Recurrence Commission -a Judicial Mechanism with a Special Counsel, and -an Office of Reparations It was also stated that these mechanisms will be evolved through a process of wide consultations involving all stakeholders, including victims .

Please refer:

http://www.mfa.gov.lk/index.php/en/media/media-releases /unhrc2015/6200-slfm-hrc30

Page 14 onwards of Hansard:

http://www.parliament.lk/uploads/documents/handsard/1443418220088147.pdf

Subsequently, a Secretariat for Coordinating Reconciliation Mechanisms (SCRM) was appointed with the approval of the Cabinet of Ministers for the coordination of the public consultation process and the design and establishment of relevant mechanisms thereafter. The Secretariat, comes under the Prime Minister's Office, and was approved by the Cabinet of Ministers on 18 December 2015. The Secretariat is headed by Secretary-General Mr. Mario Tittawella. Consultation Task Force (CTF) on Reconciliation on Mechanisms A Consultation Task force comprising of 11 civil society members was appointed thereafter, to seek the views of the public on the proposed reconciliation mechanism and any other views pertaining to reconciliation mechanisms. Composition: CIF is drawn entirely from civil society and is an independent body.

On 26 January 2016 the Prime Minister appointed the following:- Chair: Manouri Muttetuwegama; Secretary: Paikiasothy Saravanamuttu; Members: Dr. Farzana Haniffa, Prof. Sitralega MaUnaguru, Mirak Raheem, Gamin' Viyangoda, Ms. Shantha Abimanasingham'kc., Prof. Gameela Sarnarasinghe, Ms Visaka Dharmadasa, K.W. Janaranjana, Prof. Daya Somasundaram. Mandate:To consult Members of the public on the processes and mechanisms for reconciliation in Srilanka and seek suggestions for the design of I. Office of Missing Persons II. Truth, Justice, Reconciliation and Non-Recurrence Commission III. Judicial Mechanism IV. Office of Reparations
Methodology:
To gather public views in the on the process and mechanism for reconciliation.
     
Sectoral Consultation
   
Zonal Task Forces
   
Submission
 


To ensure national participation in the consultation process with various sectors such as:

Religious community security Sector
Professional Associations Political parties
Media, etc

To ensure public legitimacy ownership and participation & to give voice to victims from various ethno-religious communities in different parts of the country. 15 Zonal Task Forces representing All districts & Provinces are to hold

Public are to hold
Focus group discussions
Individual meetings

Direct submissions to the Consultation Task Force relating to mechanism for reconciliation may be made via :

Post
Email
Online submission of web form
Zonal Task Forces The CTE finalized appointment of members of the Zonal Task Forces (ZTF) at the end of May 2016. 6 to 8 LIE members selected from 15 geographical zones on basis of Gender balance Ethnic and religious representation Members' leadership roles in society Experience in working on issues related to human rights, reconciliation and peace
The ZTFs will operate in the following 15 zones
1.Jaffna District
2.Killinochchl District
3.Mullaitivu District
4.Mannar District
5.Vavuniya District
6.Trincomalee District
7.Batticaloa District
8.Ampara District
9.North Central Province
10. North Western Province
11.Central Provinc
12.Western Province
13.Uva Province
14.Sabaragurnuwa Province
15.Southern Province
Consultation Process
ZIF are responsible for conducting consultations on the reconciliation mechanisms proposed by GOSL. They would consist of public meetings and focus group discussions (GDs) in each of the above zones. ZIFs are expected to commence public sittings in July 2016 and would submit a zonal level report to the CTF after consultations conclude' in August 2016.
The Report
The Report of the OT will be handed over to the Government at the conclusion of the consultation process. it is, expected that the Report, upon conclusion of consultations in August 2016, will be handed over in September 2016.
For more information:http://scrm.gov.lk
PUBLIC DAY
Sri Lankan High Commission in Bangladesh has taken steps to cancel the issuance of a 'No Objection Certificate' for Sri Lankan nationals for extending their residence visas with effect from 01 June 2016. The cancellation comes following series of deliberations with the Ministry of Foreign Affairs of Sri Lanka and the relevant authorities of the Government of Bangladesh as this practice has inconvenienced many a Sri Lankan employed/pursuing studies in Bangladesh. However in order to keep a continuous dialogue and engagement with the Sri Lankan community in Bangladesh, the High Commission has decided to initiate a ' Public Day', once a week during which the community members may meet H.E the High Commissioner and High Commission officials to discuss any matter. Further information will be circulated amongst the community soon.
09 June 2016Sri Lanka High Commission Dhaka.
---
VISIT OF HON.SPEAKER TO BANGLADESH
Hon. Karu Jayasuriya Speaker of the Parliament of Sri Lanka undertook a three day visit to Bangladesh from 03 rd – 6 th June 2016. On the invitation of Sri Lankan community in Bangladesh, Hon. Speaker inaugurated the pinnacle of a Sri Lankan style stupa built with the donations of Sri Lankan community in Bangladesh in Ashulia Temple in Savar. The High Commission in Sri Lanka facilitated the visit.

During Hon.Speaker's visit, he paid a courtesy call on Bangladesh President H.E Abdul Hamid at Bangabhaban in Dhaka. The Speaker was accompanied by Secretary General of Parliament Dhammika Dassanayake and the High Commissioner of Sri Lanka to Bangladesh H.E Yasoja Gunasekera. The two leaders had discussions on a wide range of topics concerning the two countries such as trade, increasing two way investment and people to people contact. Hon. Karu Jayasuriya apprised the President of the recent developments in Sri Lanka and informed the President that Sri Lanka-Bangladesh Parliamentary Friendship Group will be formed in Sri Lankan Parliament on 9 June.

Hon.Speaker also called on Hon. Advocate Md. Fazle Rabbi Miah, MP, Deputy Speaker, Leader of the Opposition Hon. Raushan Ershad, MP , and Hon.Saber Choudhary, Chairman of International Parliamentary Union. He also met with Dhaka University (DU) Vice-Chancellor Prof. Dr. AAMS Arefin Siddique.

During his stay, Hon. Speaker visited the National Mausoleum in Savar and paid tribute to

National War Heroes of Bangladesh, paid a visit to Bangabandu Museum and visited the Central Shaheed Minar where he paid homage to the Language Movement heroes by placing a floral wreath.

06 June 2016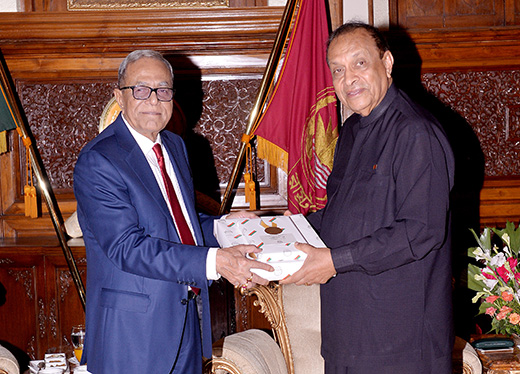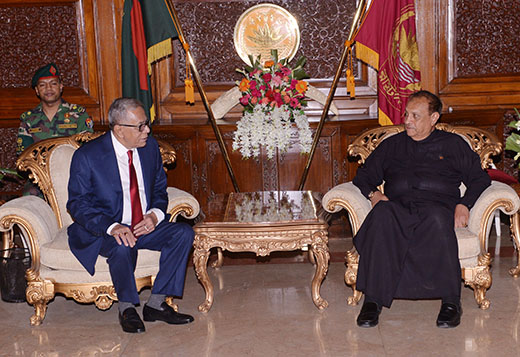 ---
VESAK COMMEMORATION LECTURE
The High Commission of India and the High Commission of Sri Lanka in Bangladesh jointly organized a lecture by Professor Sukomal Barua on Buddhist Culture and Civilization in South and South East Asia on 31 May 2016 at 1030 hours at the Indira Gandhi Cultural Center, No.35, Road No. 24, Gulshan-1, Dhaka. High Commissioner of Sri Lanka to Bangladesh, H.E. Ms. Yasoja Gunasekera and Acting High Commissioner of India, Dr. Adarsh Swaika were present on the occasion.
Professor Sukomal Barua is the Founder and former Chairman of the Department of Pali and Buddhist Studies at the University of Dhaka. He is also the Founder Director of the Centre for Buddhist Heritage and Culture at the University of Dhaka and President of the World Buddhist Federation of the Bangladesh Chapter.
The lecture was well attended by members of the diplomatic corps and Buddhist scholars.
Dhaka01 June 2016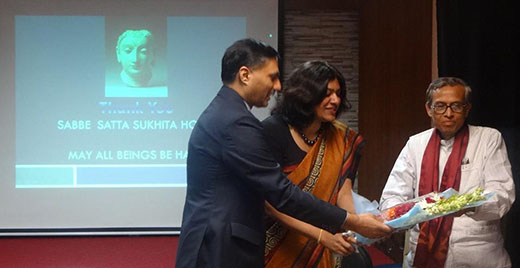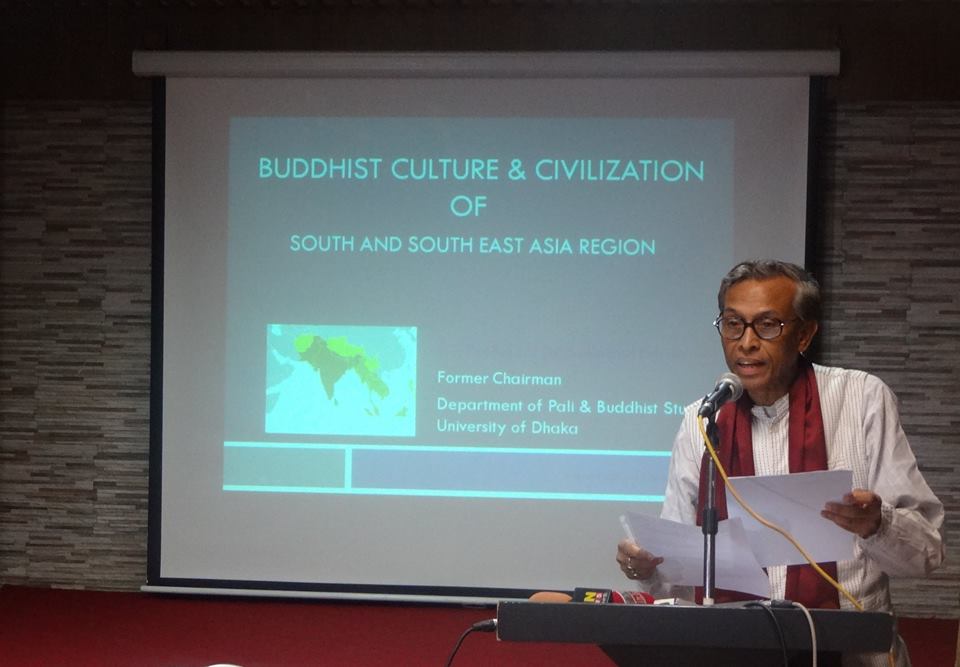 ---
FLOOD RELIEF IN SRI LANKA
The Embassy of Sri Lanka wishes to express deep appreciation and gratitude for Sri Lankans and other well-wishers in Bangladesh for making financial contributions as well as relief materials towards the flood relief efforts of the Government of Sri Lanka in response to information circulated by the High Commission of Sri Lanka on May 22, 2016. The list of the contributors as at June 9, 2016 is appended below :
All funds and material received have been transmitted to the Ministry of Disaster Management to further strengthen the efforts of the Government and its ongoing flood relief measures and post - disaster relief operations.
The donors who are yet to make financial contributions for this purpose can continue to contact the High Commission.
High Commission of Sri Lanka
Dhaka, June 9, 2016
Financial contributions
Employees of Univouge Garments Co.ltd
Employees of Universal Mens wear Pvt Ltd
Mr.Anil Weerakkody -News print packaging pvt Ltd
Mr.Harikesha Wijesekara -Royal park Ltd
Mr.Lalindra Yahatugoda
Mr.Lal Udagedara
Mr.Ajith De Siva & Mr.Dilip De Silva
Mr.Faraz Shamsudeen
Mrs. Reeta Dodangoda
Mr.Charitha De Costa
Employees of AB Securitas bd ltd
Mr.Imran
Mr.Anura Hewaarachchi
Mr.Shamim Ahmed
Flood relief material contributions
Royal park Residence Hotel, Bangladesh
American & E fird LTD, Bangladesh.( Mr.Angelo Leanage)
Armana Group, Bangladesh.
Utah Group of Company, Bangladesh.
APL Logistics, Bangladesh.
Mr.Lal Kenny Udagedara.
MAS Direct Brands (Mr.Mangala)
CTN Bangladesh (Ms.Tharanga)
Mr. Imran
Mr.Heshanth Fernando (M&S)
Welcome to the web portal of the High Commission of the Democratic Socialist Republic of Sri Lanka in Bangladesh. This site has been set up to provide an insight of a wide array of subjects that would be useful to the visitors and harness the mutual cooperation and ties between Sri Lanka and Bangladesh.
Sri Lanka attends ICC Conference on Global Economic recovery in Dhaka

Export Development Board of Sri Lanka led a Trade delegation from Sri Lanka to participate at the International Chamber of Commerce Conference on Global Economic Recovery which was held in Dhaka during 25-26th October 2014.

During the sidelines of the Conference, nine Sri Lankan companies included in the delegation participated in two Business Match-Making sessions with the members of the Federation of Bangladesh Chamber of Commerce and Industry (FBCCI) and the Dhaka Chamber of Commerce and Industry (DCCI) at two events on 27th October 2014. The participating companies represented printed packaging products, garment and textile accessories, IT and education, food processing and electric cable sectors. The delegation also met with the senior officials of the Board of Investment of Bangladesh and Bangladesh Garment Manufacturers and Exporters Association.

During their interactions with Bangladesh entrepreneurs, the Sri Lankan business personnel expressed their keen interest to invest in the potential sectors of Bangladesh. Both sides agreed that despite sharing similar basket of export goods, there is a need to complement each other's products than to compete for the same products.

In addition to the Chamber interactions, the Export Development Board had organized separate Meeting sessions for the 12-member delegation with individual companies in collaboration with the High Commission of Sri Lanka in Bangladesh. Sri Lanka High Commission in Bangladesh had also organized an interaction for the visiting delegation with the Sri Lankan entrepreneurs already established in Bangladesh on the evening of 26th October.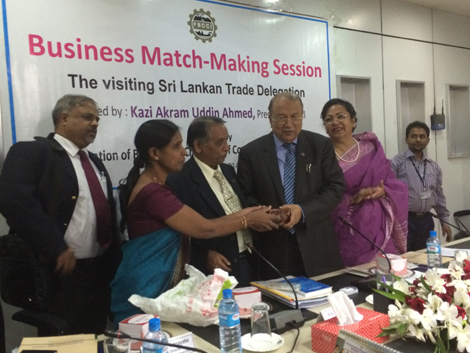 Interaction with the Federation of Bangladesh Chamber of Commerce and Industry. Mr. Qazi Uddin, President of FBCCI and Actg. High Commissioner of Sri Lanka, Mr.A.G Abeysekera and Ms.Chandani Rathnayake of Sri Lanka Export Development Board present at the event.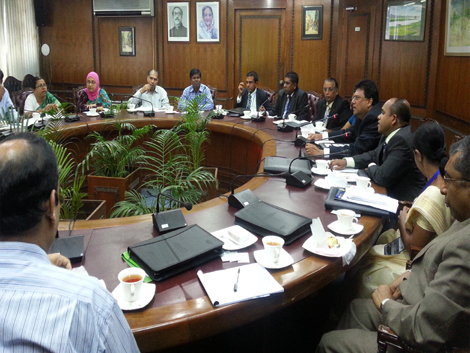 Meeting with the senior officials of Board of Investment of Bangladesh and the visiting Delegation