INVITATION FOR EXPRESSION OF INTEREST FOR BID FOR THE IMPORT AND SUPPLY OF UNIFORM MATERIALS FOR THE SRI LANKA STATE TRADING (GENERAL) CORPORATION LTD (STC) ON BEHALF OF THE MINISTRY OF EDUCATION FOR THE YEAR 2012
The Sri Lanka State Trading (General) Corporation Ltd (STC) has called for Expressions of Interest for import and supply of school uniform materials.
The details are available at the attached Notice.
The trade policy of Sri Lanka is to continue the process of further liberalization of the countries current regime, aims at integrating Sri Lanka with the global economy within the positive attributes of free market economy.

The focus of government's external trade strategy continued to be centered on export diversification in terms of products and markets.
Exports:

The major exports of Sri Lanka can be categorized in to three major sections-

Agricultural Exports
Industrial Exports
Services



Agricultural Products:

Ornamental Fish
Cereal & Food Staff
Coconut & coconut based products
Cut flowers, cut foliage and ornamented plants
Fish, Fisheries products and fishing accessories
Edible fruits & nuts
Processed food, fruit juices, beverages and tobacco
Natural rubber
Spices and oil
Tea, Coffee and cocoa
Edible vegetables, roots and tubers betel leaves



Industrial Products:



Ceramic & pottery products
Chemical, plastic & allied products
Electrical and electronic products accessories
Footwear
Apparels clothing accessories
Gems  and Jewellery
Handloom textile
Leather & leather based products
Giftware & lifestyle products
Machinery, equipments, fabricated products
Metal & metal based products
Mineral & mineral based products
Paper & paper based products
Pharmaceuticals & medicinal products
Rubber based products
Toys
Wood & wood based products



Services:

ICT products and other services





2. Value & Export

Year

Total value
(USD Mn.)

Increase

%

2006

6883

536

 8.4

2007

7640

757

10.9

2008

8137

417

 6.5




3. Major Imports

Mineral Fuels
Oils & Products
Motor Vehicles
Electrical Machinery & Parts cotton
Iron Steel
Knitted or crocheted fabrics
Plastics
Man-made staple fibres
Trade Agreements and Concessions:
General Trade Agreement between Government of the Democratic Socialist Republic of Sri Lanka and the Government of the People's Republic of Bangladesh. (GTASLBD)
Indo-Sri Lanka Free Trade Agreement (ISFTA)
Pakistan-Sri Lanka Free Trade Agreement (PSFTA)
Asia Pacific Free Trade Agreement (APFTA)
Agreement on SAARC Preferential Trading Agreement (SAPTA)
Generalized System of Preferences (GSP)
EU Generalized System of Preferences (EUGSP)
Global System of Trade Preferences (GSTP)
Export:

Bangladesh has become the most important trading partner for Sri Lanka in the SAARC and South Asia region. The two-way trade has been expanded substantially over the last 05 decades. The Trade Agreement between Sri Lanka and Bangladesh was signed on 08th February 1977. There are 48 exportable items from Bangladesh and 36 exportable items from Sri Lanka under this agreement. The total export of Sri Lanka to Bangladesh has increased over the last three years in the following manner:
Year

Total value
(USD Mn.)

2005

15.509

2006

18.855

2007

22.764
The balance of trade between Sri Lanka and Bangladesh is reported regularly in favor of Sri Lanka and amount is slightly increasing from USD Mn 15.5 to 22.7 during the year 2005 to 2007.
Sri Lanka's Major Export Items to Bangladesh
Fabrics (Cotton)
Other (enzymes)
Pigments and Preparations based thereon
Narrow Woven fabric
Apparels and Clothing accessories
Coral and Similar materials
Oil and pits fractions
Paper, Paper Pulp, Board
Natural Rubber
10.  Copra
Imports
The value of Imports to Sri Lanka from Bangladesh is also slightly increasing during the last 3 years.
Year

Total value
(USD Mn.)

2005

8.873

2006

8.063

2007

10.928
Sri Lanka's major import items from Bangladesh:
Iron and Steal
Cotton
Pharmaceuticals and other medicaments
Woven fabric
Textile
Electrical / Electronic Items
Jute and Jute products
Apparel and clothing accessories
List of Potential exportable items from Sri Lanka to Bangladesh:
Ceylon Tea
Tire and other rubber products
Gems and  Jewellery
Food Staff
Coconut oil and other coconut based products
IT Services
Machinery and equipments using for apparel industry
Cosmetics
Chemicals and oil
Herbal Medicine
Investment
The economic strategy of the Government is to encourage private sector to play a leading role in all economic activities. Therefore, special emphasis has been placed on creating a business climate conducive to private investment.
A conducive environment has been created with the defeat of LTTE in May 2009, especially in the fields of construction of roads & bridges, culverts and electricity & water supply etc.  Avenues for investment have also been created for projects/sectors such as housing, apparel & textile, telecommunication & IT, banking, power generation, ports and aviation, agriculture etc.
The Board of Investment (BOI) of Sri Lanka is the main foreign investment agency. It is a special independent and statutory body and empowered by laws to grant special concessions by varying, modifying or exempting an enterprise from their application of laws relating to Inland Revenue, customs and exchange controls, thus enabling to grant a variety of incentives to investors. Foreign investments are guaranteed protection by the Constitution of Sri Lanka. Since 1992, the entire island has been declared an Export Processing Zone.
Today, Sri Lanka's infrastructure ranks as the best in South Asia. The Government is actively encouraging private sector investment in infrastructure on the basis of BOO (Build, Operate and Own) and BOT (Build, Operate and Transfer). Currently there are private investment projects in power, telecommunication, construction industry, hotels, ports, water sanitation, transportation (highways and rail) and IT.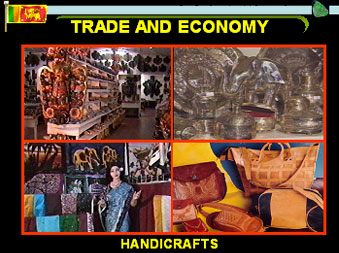 Contact Details of Relevant Sri Lankan Authorities with regard to external Trade and Investment
Ministry of Export Development and International Trade
6th Floor, Rakshana Mandiraya
21, Vauxhall Street
Colombo 2.
Tel: 94-11-2435002, 2435603-4
Department of Commerce
4th Floor, "Rakshana Mandiraya",
21, Vauxhall Street, Colombo 02. Sri Lanka.
Tel: 0094 11 2436115 / +94-11-2329733
Fax: 0094 11 2382490 90 / +94-11-2430233
Email: fortrade@doc.gov.lk
Website : http://www.doc.gov.lk/web/index.php
Board of Investment of Sri Lanka

Level 26, West Tower, World Trade Center,Colombo 01, Sri Lanka.
Tel: (+94 11) 2434403-5, 2435027, 2447531, 2386953-4
Fax: (+94 11) 2447994-5 / (+94 11) 2422407
E-Mail: infoboi@boi.lk
Website : http://www.boi.lk
Sri Lanka Export Development Board
No. 42 Nawam Mawatha,
Colombo-02,
Sri Lanka.
Phone: 94-11-2300705 / 11
Fax: 94-11-2305211
E-mail: edb@tradenetsl.lk
Website : http://www.srilankabusiness.com
The National Chamber of Commerce of Sri Lanka
450, D. R. Wijewardene Mawatha
Colombo 10
Sri Lanka.
Tel: +94 11 4741788 / +94 11 2689600
Fax: +94 11 2689596 / +94 11 2689603
E-mail: sg@nccsl.lk
Web: http://www.nccsl.lk
Federation of Chambers of Commerce & Industry of Sri Lanka
"Federation House" No 53,
Vauxhall Lane, Colombo 02,
Sri Lanka.
Tele: +94-11-2304253/4
Fax: +94-11-2304255
Email: fccisl@fccisl.lk
Web Sites: http://www.fccisl.lk

The Ceylon Chamber of Commerce
50, Navam Mawatha,
Colombo 02,
Sri Lanka
Tel : (0094) 11 - 2421745-7, 2329143, 5588800 (30 hunting lines)
Fax : (0094) 11 - 2437477, 2449352, 2381012
Email : info@chamber.lk
Website : http://www.chamber.lk